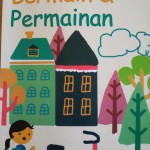 Satu lagi karya dosen PGPAUD, FIP, UM adalah Buku Bermainan dan Permainan. Buku ini ditulis oleh Pramono dan dicetak oleh UM PRESS tahun 2015. Buku setebal 170 halaman ini dikemas sebagai buku bahan ajar untuk mahasiswa PGPAUD. Oleh karena itu, sajian dalam buku ini diawali dengan penyampaian RPS, lembar kegiatan, uraian materi, lembar penilaian, dan petunjuk (rubrik) penilaian. Dengan sajian seperti ini, buku ini sangat praktis digunakan mahasiswa dan dosen dalam perkuliahan Pengembangan Bermain dan Permainan.
   Untuk memberikan pengalaman belajar yang komprehensif dan utuh tentang kegiatan bermain dan permainan untuk anak usia dini, buku ini berisi 9 Bab bidang kajian. (1) Bermain bagi Anak Usia Dini; (2) Perkembangan Otak dan Manfaat Nilai-nilai Bermain; (3) Karakteristik dan Tahap Perkembangan Bermain; (4) Tahap Pertumbuhan dan Perkembangan Anak Usia Dini; (5) Lingkungan Belajar dan Kreativitas; (6) Pengembangan 5 Aspek Kemampuan; (7) Latihan Gerak dan Hubungannya dengan Bermain; (8) Alat-alat Permainan di Area/Sentra; dan (9) Pelaksanaan Praktik Pengembangan Bermaian dan Permainan pada Anak Usia Dini. Dengan melihat lingkup kajian ini, mahasiswa akan memperoleh pengalaman teoritik dan praktis. Di samping itu buku ini sangat relevan sebagai referensi dalam pengembangan strategi pembelajaran untuk anak usia dini, mengingat kecenderungan proses belajar untuk anak usia dini adalah belajar melalui bermain. Pengalaman teoritis diharapkan agar mahasiswa memiliki konsep dasar bermain dan permainan dalam konteks pertumbuhan dan perkembangan anak usia dini. Sementara pengalaman praktis, mahasiswa diajak untuk berlatih membuat/merancang permainan yang memang by design untuk memfasilitasi pertumbuhan dan perkembangan anak usia dini.
   Walaupun buku ini dikembangkan sebagai bahan ajar untuk mahasiswa PGPAUD, setelah membaca isi buku ini, tampaknya juga sesuai dijadikan bahan bacaan bagi orang tua, praktisi maupun pemerhati pendidikan anak usia dini. Paling tidak setelah membaca buku ini, pembaca memiliki wawasan dan kesatuan konsep dalam mendidik anak usia dini melalui bermain, sehingga anak dapat tumbuh dan berkembang secara optimal. Bagi Anda yang ingin mendapatkan buku ini, dapat menghubungi Enterpreneurship Zone PGPAUD di kampus PP 2 Universitas Negeri Malang. Be smart with ECE. (kalab ksdp).